By Sodaba Haidare
BBC 100 Women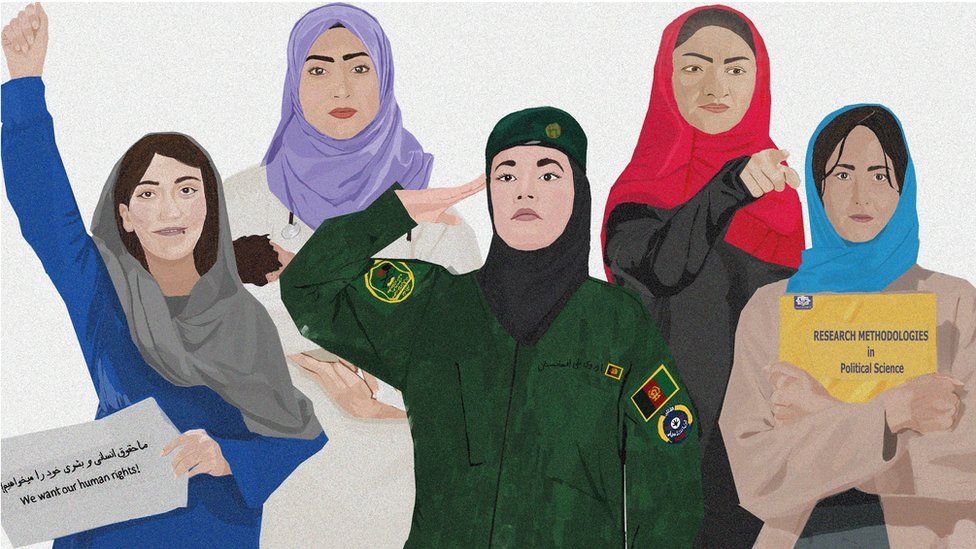 When the Taliban swept into Kabul on 15 August the only shots they fired were in celebration. For Afghan women, the salvos represented the loss of all their rights and freedoms. Five of them have been sending the BBC daily diaries, which provide a portrait of their rapidly changing lives.
15 August – 'Day of Judgement'
There's a scene in The Handmaid's Tale, the TV series based on Margaret Attwood's dystopian novel, where the main character, book editor June Osborne, arrives at her office one morning only to learn that the country's new leaders have banned women from the workplace.
Her boss gathers all the female staff and tells them to pack up their belongings and go home.
On 15 August 2021, Maari, a former soldier in the Afghan Army, has an almost identical experience. At 07:30, she leaves for work in a government ministry, expecting a busy day of meetings and conferences. Stepping outside, she immediately notices that the streets are eerily quiet, but she continues on her way, getting out her phone to check her calendar for meetings.
"You've come to work!" say astonished male colleagues when she walks in.
"I don't think Kabul is going to fall," she replies.
But she has barely put down her bag when her boss confronts her. "Go and tell all the women to go home," he says. She does as she's told, going from room to room telling female employees to leave right away. But when her boss asks her to go home, she refuses.
"As long as my male colleagues are staying and working, I am too," she says.
Maari's not just any member of staff. She's a high-ranking official with an impressive military record, and her boss reluctantly accepts what she says.
But as the day goes by, reports of the Taliban entering Kabul become impossible to ignore. Maari's boss decides to shut the ministry's doors and send everyone home.
Elsewhere in the city, Khatera, a geography teacher, is starting a new lesson – her 40 students, all teenage boys, flick through their books to find the right page.
Before long, other teachers enter the classroom, holding their phones. There are conflicting reports on Facebook: some say the Taliban are in Qargha, a town on the outskirts of Kabul, some that they're in Koht-e Sangi, already inside the city. The headteacher soon stops lessons and sends everyone home.
When Khatera reaches the bus stop, she sees people running in every direction, carrying luggage and children. Traffic is at a standstill.
"Everyone is sargardaan," she writes – the Dari word for "lost". "It's like the Day of Judgement here."
Khatera starts walking. To begin with she's not worried, but then she notices Afghan soldiers heading for the airport with their bags on their backs, their children walking behind, holding the ends of their mothers' scarves. Everyone is leaving.
Khatera's heart races and she starts jogging. Now she knows the Taliban are back.
"It's the worst nightmare," she keeps repeating under her breath.
At roughly the same time, Zala, a student at the American University of Afghanistan, receives an email saying she'll be evacuated to the US within 48 hours.
She makes a quick journey to Shar-e Naw, an area of north-west Kabul that's good for shopping, to buy last-minute travel essentials.
She too suddenly sees people running and asks what's going on. The first person she stops is in too much of a hurry to answer, then a man tells her the Taliban have taken Kabul.
"I'm losing all my strength, my hands and feet start shaking. How will I make it home?" she thinks to herself. She cries as she passes cafes and restaurants where she regularly caught up with friends, drank coffee and listened to music. Her whole life flashes in front of her.
She's too young to have known Taliban rule but she has heard horror stories from her parents who lived under their regime in the 1990s. Unless she gets on the flight, this will be her future.
4 September – Women protest
Before the takeover, Wahida Amiri, a 33-year-old law graduate ran a library in the heart of Kabul. She had assembled nearly 5,000 books, and her dream was to expand across Afghanistan, to encourage women to take up reading.
For her, the arrival of Taliban soldiers – patrolling the streets and dictating how people live – is an act of injustice that needs to be challenged.
As time goes on she becomes increasingly angry.
"Why isn't anyone saying anything? Why isn't anyone doing anything?" she asks anyone she meets.
No longer allowed to work, for days Wahida sits on her balcony. It was once her favourite place in the house, where she could hear people chattering, birds singing and dogs barking. It's now dead quiet. In late August she would count planes leaving Kabul airport, sometimes 10, sometimes 20 per day, carrying Afghans away from their homeland.
"If everyone's leaving, who is staying?" she wonders. Will there be no well-educated women left?
"Afghanistan is wounded. It's shattered into pieces," she thinks.
One night a friend of Wahida's telephones. "Let's protest," she says.
On a Friday afternoon, a number of women gather at the friend's house. They name themselves the Spontaneous Movement of Afghan Women Fighters, and the following day, 4 September, take to the streets to demand equal rights.
They meet at Foroshgah, a shopping centre, and aim to march all the way to Afghanistan's presidential palace. But at the Ministry of Finance, having walked only a short distance, they are confronted by stern Taliban soldiers.
"There are so many of them. They're circling around us. We tell them we're peacefully protesting but before we realise, we're cornered against a wall and they fire tear gas at us," she says.
In the days that follow many women say they are stopped, lashed with whips, and beaten with batons that emit electric shocks.
7 September – 'I'm not afraid of your gun'
It's the day the Taliban declare victory in Panjshir Valley, a small province in northern Afghanistan known for its resistance against the Soviet Union and the Taliban in the 1990s. In 2021 it's the final pocket of territory that has remained outside the militant group's rule.
Wahida, whose family comes from the Panjshir Valley, takes to the streets again, this time with her sister-in-law and six male friends.
As she calls for a ceasefire in Panjshir she's met by a group of angry Taliban soldiers holding AK-47s. One of them moves close to Wahida and says, threateningly: "You'd better go home and cook lunch."
"I'm not afraid of your gun," says Wahida. "I'm capable of debating with you any subject you want. And I'm not going home to cook."
The next day, the Taliban ban protests.
17 September – Saving lives
In healthcare women workers are too important to lose.
Mahera, a young doctor specialising in obstetrics and gynaecology at a busy hospital in a northern province of the country, stayed at home for the first week after the takeover, but then got a call to return.
It wasn't easy working under the Taliban, though.
"They snapped at everything," Mahera says. "When patients complained about the lack of service or the price of medicine, they would come and intimidate us. They thought we were treating patients unfairly."
Many medical staff have fled the country, and most clinics have closed. Mahera now travels to 12 districts providing front-line care; it's critical work, as Afghanistan has one of the worst maternal and infant mortality rates in the world.
"On my first day back, I wore a chaderi [a covering from head to toe]. I was shaking underneath it," she says. "But as the days went by I think the Taliban got used to us and I didn't have to wear it any more."
25 September – A broken heart
A week after the Taliban announce the reopening of schools for boys across the country, Khatera gets a call asking her to come in. She puts on her school clothes and makes her way to what she calls her "happy place". She misses it – the smell of chalk when she writes on the blackboard and her students cheekily quizzing her on capital cities. She's brimming with excitement.
When she reaches school it's clear her students are happy to see her too. They take out their planners and ask her to sign them, like fans after a celebrity's autograph. But immediately she's called to the headteacher's office.
All her female colleagues are there. They're told to sign their names on the register and then go straight back home.
"The Islamic Emirate of Afghanistan still prevents women from working," says the headteacher.
Why were all the female teachers called in for nothing? Khatera thinks the headteacher may want to curry favour with the Taliban by showing them the signatures of women ready to work.
At the school gate, she stops to look at the classroom she has taught in for 10 years. She wants to tell the boys she will be back one day, but she can't hold back her tears.
Khatera was shaken and fearful on the day the Taliban took Kabul, but this breaks her heart.
27 October – 'They're looking for us'
Maari and her ex-comrades from the Afghan National Army have been in hiding since the arrival of the Taliban. Former servicemen and women have been promised an amnesty, but Maari doesn't believe it.
"They have to come to my area several times asking people on the street where we are. They say we are hiding weapons in our homes and they want to talk to us," she says.
One of Maari's colleagues who fought against the Taliban had a knock on her door one day. Looking through the peephole she recognised a shopkeeper, but didn't open the door
"They have a photo of you they're showing everyone," he said, speaking to the closed door in case she was listening. "I saw it with my own eyes. If you're still here, please leave. Save yourself."
Maari is particularly vulnerable as she's from the long-persecuted Shia Hazara community. Her family in central Afghanistan were recently forcibly evicted from their home by the Taliban. She has nowhere to go.
"I might die of hunger because I can't step outside my house, and no-one will know," she tells me.
Maari says the international community has forgotten female Afghan soldiers. Every day she reaches out to people outside her country for help, but they seem as far as the sky from the Earth.
5 November – waiting to leave
Zala was born after the US-led invasion of Afghanistan. She's been studying political science and law at a prestigious university, as her father is an affluent man and can afford the fees.
The first flight she was told to prepare for didn't materialise.
Since then she has been told every couple of weeks that she will be evacuated. Packing bags, and putting bedding away only to unfold them all again has become a ritual for her and her family.
"Today we're putting away all the plates and cutlery because we have received word that we will be evacuated in the next 24 hours. Oh and they've told us not to pack big bags, so I'm just packing a backpack," she writes.
The teenager who loved to experiment with different looks has these days swapped her skinny jeans, colourful tunics and scarves for a plain black hijab.
"I never used to wear anything like this," she says – she's not used to it and it takes a while before she gets it right. "Now time for the scarf." She covers her face to avoid being recognised when she goes outside.
23 November – 100 days on
It has been exactly 100 days since the Taliban swept across Afghanistan and into Kabul. In most provinces, including the capital, Kabul, girls remain banned from going to secondary school and women are still barred from their places of work, their roles left empty or filled by men. The economy is collapsing because of the loss of international aid, and cold winter temperatures have arrived. According to the World Food Programme, 95% of Afghans don't have enough food.
Khatera, the school teacher and Mahera the doctor who are the sole breadwinners of their families are struggling to put food on the table.
Neither has been paid for months.
Every year around this time Afghan central heating systems are turned on – but not Khatera's. She can't afford it.
6 December – Life at a standstill
Wahida Amiri is more exhausted every day. But she's determined to continue being a voice for Afghan women.
Maari has managed to get out of Kabul and is living in an undisclosed location – just two days after she left, the Taliban came to her home.
Khatera sits at home in the cold, dreaming of going back to school.
Zala is still waiting to be evacuated. Today she receives another email about a potential evacuation in the next 24 hours. She's starting to believe she may never leave.
Mahera has recently had a marriage proposal from someone with links to the Taliban. She doesn't want to marry him. Every day she's faced with a tough decision: choose to save the lives of her patients, or her own.
All names have been changed, except Wahida Amiri's
BBC 100 Women names 100 influential and inspirational women around the world every year. Follow BBC 100 Women on Instagram, Facebook and Twitter. Join the conversation using #BBC100Women.
Bilgilendirme portalı, kişilerin herhangi bir konuda artık yeterince bilgi sahibi olmadıklarını düşündükleri zaman, o konuda araştırma yapmalarını sağlayacaktır.
Örneğin, bir yerel gazete veya internet sitesindeki haberleri yapan kişiler için, bilgilendirme portalına kayıt olma zorunluluğu getiriliyor.
Kişilerin bilgilendirme portalında izledikleri içeriklerden elde ettikleri sonuçlardan memnun kaldıkları durumda, o içerikleri sosyal medya hesaplarında paylaşabilirler.
Kişilerin bilgilendirme portalındaki izledikleri videoları, çizimleri, animasyonları beğendikleri durumda, bu içerikleri bloglarına ekleyebilirler.
Genel kültür bilgisi, bir toplumun ortak değerlerini, inançlarını, geleneklerini, yasalarını, tarihini, dillerini, kültürünü ve diğer toplumsal özelliklerini içerir. Çoğu durumda, genel kültür bilgisi, herhangi bir ülkenin milli kültürünü de içerir. Örneğin, Türkler, Türk kültürünü bilirler; Amerikalılar, Amerikan kültürünü bilirler.
Genel kültür bilgisinin amacı, toplumun ortak değerlerini, inançlarını, geleneklerini, yasalarını, tarihini, dillerini, kültürünü ve diğer toplumsal özelliklerini öğrenmektir. Bu amaçla, genel kültür bilgisi, ülkenin tüm bölgelerinde yaşayan insanların yaşam biçimlerini, kültürlerini, dillerini ve diğer özelliklerini içerir. Genel kültür bilgisi, ülkenin tüm bölgelerindeki insanların ortak yönlerini ve farklılıklarını ortaya koyar.
Genel kültür bilgisi, ülkenin tarihi ile ilgili bilgileri içerir. Tarih, bir ülkenin geçmişte yaşadığı olayları anlatır.
Geniş bilgi edinme, insanın kendini geliştirmesi ve bilgi birikimini artırmak için yaptığı çabalardır. İnsanlar geniş bilgi edinmek için kendilerini sürekli geliştirmelidirler. Bunun için her türlü kaynağa ulaşmaya çalışmalıdırlar. İnsanlar geniş bilgi edinmek amacıyla kitap okumalı, dergi ve gazeteler okumalı, internette araştırmalar yapmalıdır. Geniş bilgi edinmenin yanında, bilgi birikimini artırmak için de çalışmalıdır. İnsanlar, kendilerini geliştirmek ve bilgi birikimini artırmak için her türlü kaynağa ulaşmalıdırlar. Bunlar; kitaplar, dergi ve gazeteler, internet, bilimsel toplantılar ve konferanslar, seminerler, kurslar, çalıştaylar, panel ve forumlar, bilimsel araştırmalar, ödevlerdir.
İş hayatında başarılı olmak istiyorsanız, geniş bilgi edinmenin önemini bilmelisiniz. Bu konuda uzman kişilerle iletişime geçebilir, yazılı kaynaklardan yararlanabilirsiniz.
Teknoloji, en basit tanımıyla bilim ve sanatla uğraşan kişilerin kullandığı araçların topluluğudur. Teknoloji, bugünkü modern dünyada hayatın her alanında kullanılmakta ve hayatı kolaylaştırmaktadır. Örneğin, sağlık sektöründe teknoloji sayesinde hastaların tedavisinde çok büyük ilerlemeler kaydedilmiştir. Hastalar için artık çok küçük bir cerrahi işlem bile yapılabilmektedir. Ayrıca, sağlık sektöründeki teknolojik gelişmeler sonucunda hastaların tedavisinde kullanılan ilaçlar, koruyucu araçlar gibi çok önemli gelişmeler kaydedilmiştir.
Teknoloji hakkında yazılmış birçok makale bulmak mümkündür. Ancak, teknoloji konusunda yazılmış makalelerin çoğunluğu genellikle teknoloji ile ilgili olumlu yönleriyle ilgilidir. Teknolojiye karşı olumsuz görüşleri yansıtan yazılar ise oldukça nadirdir. O nedenle, teknolojiye karşı olumsuz görüşleri olanların da bu konudaki yazıları okumaları gerekir.
There is no doubt that the internet has made our lives easier in many ways. We can now easily communicate with others around the world, access information, and purchase items without ever having to leave our homes. However, with this increased convenience comes a certain level of risk, as the internet can also be used to steal our personal information or to scam us out of our hard-earned money.
For this reason, it is important to be aware of the risks associated with using the internet and to take steps to protect yourself. One of the best ways to do this is to use a reputable antivirus program and to keep your computer's software up to date. You should also be careful about what information you share online, and never provide your personal information or banking details to a site that you do not trust.
Another important thing to keep in mind is the importance of cyber security. This is the practice of protecting your online privacy and security, and includes things like using strong passwords and encrypting your data. By taking these steps, you can help protect yourself from online threats and keep your information safe.
Overall, the internet is a great tool that can make our lives easier, but it is important to be aware of the risks involved and to take steps to protect yourself.
Webustam.net.tr içerikleri Creative Commons Belgesi koruması altındadır.
Bu bölümde aşağıdaki tüm lisansın bir özeti yer almaktadır.
Şunları yapmakta özgürsünüz:
Paylaşma—Bu eseri her boyut ve formatta paylaşabilir — kopyalayabilir ve çoğaltabilirsiniz,